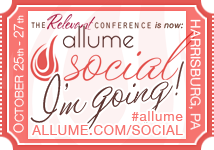 I just purchased my Allume Social pass!
Excited? Yes.
Nervous? Yes.
In these next eight months I will...
*travel to Texas for my son's BMT graduation
*complete the 5th/7th grade school years for the two youngest boys ~ yea, us!
Homeschool Year Two, done!!
*meet my 21-yr-old daughter's boyfriend
*find a house to rent in VA
*pack, move, and set up this home for the 16th time in 23 years
*travel to Texas in July to see my family
*begin a new school year in August
*plan and celebrate my husband's promotion to LtCol
And finally, travel to Harrisburg by myself for the Allume Social in October. This will be a first, going it alone. I'm keenly aware of that as I book my hotel room. I've always shared a hotel with two or three dear sister-friends. This will be a new kind of gathering for me. Heaven help the internet illiterate! Or maybe instead, those He has called to educate me!
I've been tempted to reach out to some of these girls and ask if they might be interested in going with me. But Allume sits in the center of one of my circled prayers for this year.
Clarify the purpose and give me a venue for the passion I have for writing.
I'm trusting that He knows my heart.
My longing for community, friendship, and a mentor.
So, I'm headed to Allume alone.
But I know I will walk through the doors into the arms of family. And typically family doesn't mind if you're a bit frazzled, prefer pj's over a suit, and show up to get a little bit of lovin'!
With my Em the year she graduated from high school, at a Beth Moore Conference in WY
With my Rhonda and Kathy, claimed sweet sisters in Christ, at the same conference
With my girls from Utah, Tracy, Susanne, and Jamie. We met in Washington DC, the middle point between Utah and Germany, in a time that I really needed the fellowship, prayers and worship together.
With my "little brothers and sisters" Colin, Sarah, Mark, and Molly from our Israel/Palestine mission trip. They met me for evening worship and dinner. Love these people!
Can you tell once I claim you I use a possessive pronoun each time I think of you?
It is wonderful to be claimed and called "mine."
I am looking forward to the new faces of my family I have yet to meet.
Pennsylvania, I'm on my way!
"…you've got a seat at my table. You've got a home, here's somebody who believes you, let truth remind you, you've always got a place to go to, you've got a home." -Christa Wells, You've Got a Home